Matthew Perry was about as creatively funny during this interview as he was during his show Go On which just got canceled by NBC.
Meaning he was not…funny that is.  Go On  was pretty awful.  Except for Julie White.  Who pretty much has the best legs on television.  Yes if you get a chance to watch Go On  on Hulu or On Demand you will see the best legs on television especially since Julie White is 51 years of age and had to get stuck on a show that was headed for the canceled bin since the first episode.
If you watch this interview with Matthew Perry during the intermission of an LA Kings game you will see why the show is gone.  The guy seems to be a nice dude but he's not funny.  And that came across during the show.
Too bad.
Because Go On, as a concept, was relatively smart.  It's just Matthew Perry couldn't carry the show and his personality was simply boring.  He needs a strong cast around him and although Julie White's fine legs were worth the half hour, the rest of the cast just weren't Friends.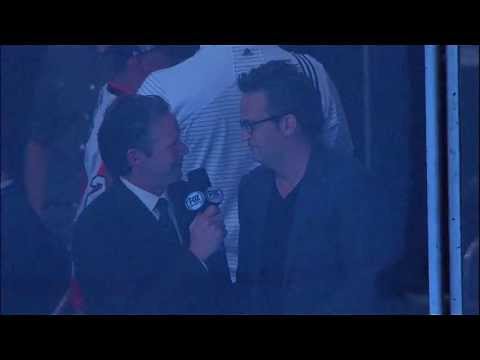 Oh well.  Bye bye, Go On .  But this video is surely funny.
Rick Thomas